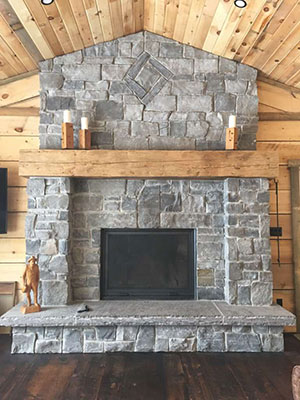 Nothing makes a home feel cozy and welcoming on a cold winter's day quite like a fireplace! There are so many ways to do a fireplace, and very few of them are wrong in terms of design and materials. Here at Maxwell Stone, we are particularly fond of stone and stone fireplaces. Because we have such an affinity for stone, we have decided to go over a few of the reasons why stone fireplaces are great for your home any time of the year, but especially during the winter.
First, stone fireplaces are easily customizable. With so many different colours, patterns, cuts and natural options to choose from, you would run out of stones in the world before you run out of combinations that you can decide from when it comes to stone options.
Second, stone fireplaces are beautiful and comforting. No matter what your design or style, there are stone fireplace options out there for you. Stone fireplaces can warm up a cozy cottage or be a dramatic focal point in a more modern place.
Third, when you choose stone fireplaces, you can count on your stone fireplace to last. While other materials might start to fade, crack or crumble, a stone fireplace will be durable and long lasting.
Fourth, a stone fireplace can create a feature and selling point should you decide to sell your home later on down the line. Because buyers love aesthetic details and are willing to pay more for them, a stone fireplace can help make your home sell faster and potentially for more.
If you have questions about stone fireplaces or other stone products from Maxwell Stone, come and talk with us today!