Flagstone is a solid, durable material that can beautify many areas of your property.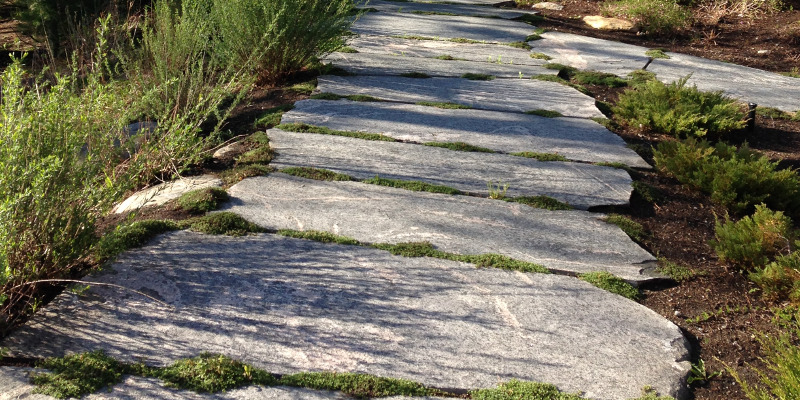 At Maxwell Stone, we are proud of the flagstone and other stone products that we offer to our customers in the Muskoka, Ontario area. When you want to add some zest and style to your landscaping, there are many options that you can turn to. One of the best things you can do to add appeal and functionality for your home is using flagstone in your landscaping. Whether you want to lay a path out to your garden or need a wider area covered for a firepit, our team here at Maxwell Stone wants to give you beautiful flagstone you can be proud of for years to come.
In addition to its long-lasting and timeless appeal, flagstone offers many other benefits as a landscaping choice, including:
Natural non-slip surface– Because flagstone has a natural cleft to the material, it's a great material to install for pathways, around gardens, pools or anywhere else that might be a slippery walking surface.
Durability– Flagstone is available in granite, a very tough type of stone. It can withstand extreme temperatures, making it an ideal material for areas with freezing and thawing temperatures. It also can be laid on most any type of soil without worry of degrading.
Ease of installation– Flagstone installation is often done very naturally, without worry about precise angles. This means that you simply lay the stone in a pattern that appeals to you.
For a great flagstone supplier, come and see us at Maxwell Stone today. We would love to show you your options in our flagstone supplies as well as our other stone products.
---
At Maxwell Stone, we offer flagstone products to residents of Toronto, Newmarket, Aurora, Vaughn, Innisfil, Barrie, Collingwood, The Blue Mountains, Thornbury, Muskoka, Orillia, Southern Georgian Bay, Grey County, Meaford, Owen Sound, Orangeville, Thornhill, Scarborough, Woodbridge, Mississauga, Brampton, Caledon, Mono, and Bramalea, Ontario.