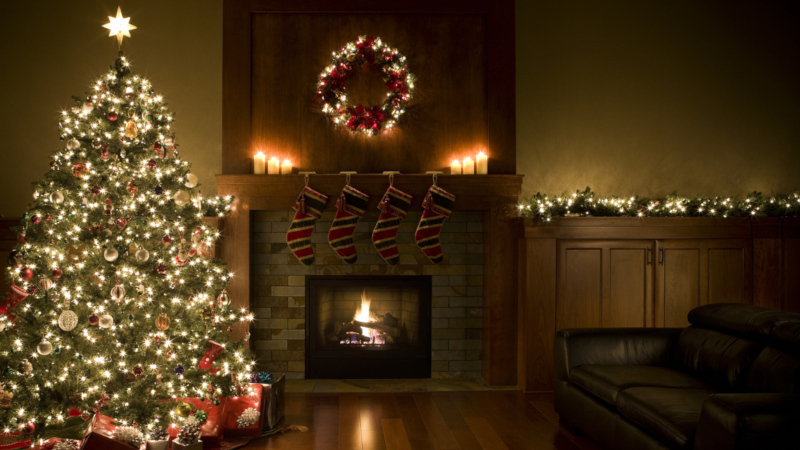 There is nothing quite like a fireplace that anchors a room's design. It serves as a focal point for any room, keeps you warm and cozy during the winter, and gives you a convenient place to showcase your artistic style! Decorating mantels can be a fun way to change décor throughout the seasons, show off family pictures, or give that one special piece a place in the limelight. If you have a mantel in your home, but aren't quite sure how to decorate it for the holidays, we have a few tips for you:
Use Symmetry. Symmetry is pleasing to the eye and therefore will accent your mantel décor. Try using decorations that are similar in size on either side of the fireplace, with a large focal point in the middle. During the holidays these items can be miniature evergreens, vases of ornaments, or lighted topiaries.
Dial up the colour! The holiday season is a fun time to decorate because there are no wrong colours! You can go with a natural and rustic theme, a wacky and bold coloured theme, or a traditional green and red theme. Choosing coloured lights that complement coloured decorations will brighten up any room.
Layer. Layering several frames on one another is a great mantel décor. You can layer all holiday prints in different shapes and sizes or alternate holiday prints with Christmas cards or family portraits.
Don't reinvent the wheel. Not all of us are born designers or decorators. Some of us want nice homes, but don't trust our own styles. Instead of agonizing over holiday pieces to display, do a simple image search, find a design that you like, and copy it the best you can.
If you enjoy your fireplace, but don't yet have a mantel for the holidays, contact us here at Maxwell Stone.